How long do our pesticides last outside?
We take care to spray into cracks and under things. This is the normal habitat for most insects and is not subject to degradation from outside disturbances. Of course we power spray surfaces too and some of our pesticides formulations last until about the time we are scheduled to return. Because we are true professionals, we are always adjusting our services to match up which changes in pest pressure. However, if at any time pests build up or start getting inside, we ask that you call us immediately and take advantage of your free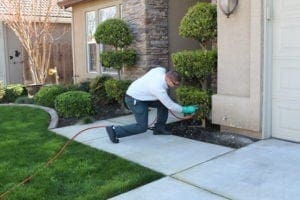 warranty services. We do not want our customer's pests to build momentum and we want you to know that we are truly there for you.